Tag:
ESG
Investing
More retirement plans could begin offering environmental, social and governance funds in their lineups.
Compliance
The lawmakers say their proposals to require more disclosure of environmental, social and governance information build on the proven principle that sustainable investing and profitable investing are not mutually exclusive.
George Michael Gerstein, an ERISA attorney with Stradley Ronon, dissects the DOL's final rule regarding ESG investing in retirement plans, calling it a compromise that might be here to stay.
Compliance
Experts say the president-elect could start the process of shoring up Social Security and embrace ESG investing.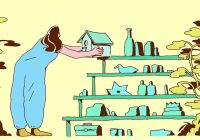 Products
Northern Trust updates investor portal for alt asset managers, SSGA introduces corporate bond ESG ETF, and Mercer launches climate transition analytics solution.