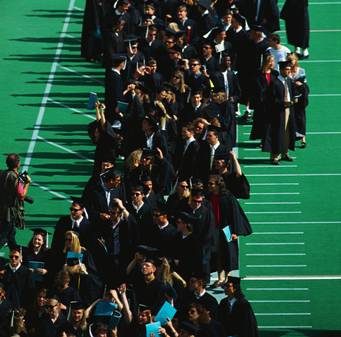 Surveyed Americans said retirement (53%) was more of a savings goal than college (45%), according to a survey report from the CSF. That is different than in 2007, when college was slightly ahead of retirement (53% and 51%, respectively) as a top savings goal. In 2008, more people were also thinking of saving for a home (26%) than in 2007 (18%).
CSF said parents are saving less for their children's college education this year, and the majority has saved nothing at all. The survey found that 65% percent of parents have saved less than $5,000 per child towards college, including 43% who have saved nothing at all. The results are worse than in 2007, when 54% had saved less than $5,000, including 27% saving nothing.
However, the lack of savings is not a sign that parents do not want their children to go to college: 74% of parents said they would feel highly disappointed if their children did not go to college.
Financial Advisers Can Help
CSF said parents who know the amount they need to save to fund their children's college education are much better off than the 70% of parents who don't know. Fifty-eight percent of parents in-the-know have saved at least $5,000 compared with 26% of those who don't know how much to save. They use strategies such as financial advisers and savings calculators to determine how much they need to save.
"Not only do parents need to be schooled on how much they should save, but when, where and why," said Kevin McMullen of the College Savings Foundation, in the report. "Parents are counting on free federal money in the future that may not be there while leaving money on the table right now by not taking advantage of tax saving investment vehicles. As a result, children end up shouldering daunting debt."
CSF said "complicating parents' ability to save is their choice of savings vehicles." Fewer parents owned 529 college savings plans in 2008 (21%) than last year (29%), and only 16% said it is their primary college savings vehicle. In contrast, 35% of all parents are using cash or cash equivalents as their number one college savings vehicle, the report said. "With better financial education, parents would know that it's possible to hold cash or cash equivalents in 529 plans and still gain the tax benefits," McMullen said.
CSF offered several solutions to help parents saving for college (see "529 Plans, Grandparents Help College Financing").
CSF surveyed 800 parents across regions and income levels. More information about the survey is available on the group's Web site.