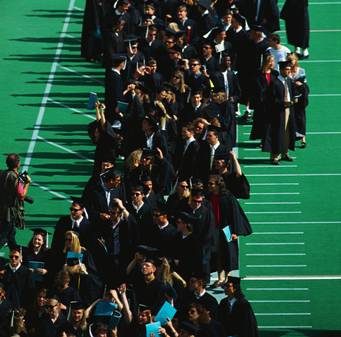 For those with a student in that group, it may be too late – but Kiplinger has unveiled an educational video on paying for college and how to borrow wisely titled "Borrow Smart.' The 24-minute video first offers tips on saving, keeping costs low, and accessing scholarships and grants. Kiplinger experts then advise families on how, when necessary, they can borrow wisely to make the investment in a college education.
The film, written by and featuring editors of Kiplinger's Personal Finance magazine, was underwritten by Sallie Mae (which describes itself as "the nation's leading saving- and paying-for college company') champions its "1-2-3 approach' to paying for college:
first, tap "free money' such as grants and scholarships;

second, fully exhaust federal loans;

third, fill any gap with private education loans.
Late Starts?
According to Sallie Mae's 2007 Survey of Parents of College-Bound Freshmen, 61% of all parents of incoming college freshmen said that they began initial discussions about the best way to pay for college after the child entered high school.
The College Board reports that the average cost of a four-year public college in 2007-2008 was $13,589 and the average cost of a four-year private college was $32,307. One-third of all college graduates finish with no debt. The other two-thirds who borrowed finished school with an average of $19,200 in student loans.
Video Details
The video is accompanied by a downloadable guide, including discussion questions for parents and students to use as they talk about how to pay for college.